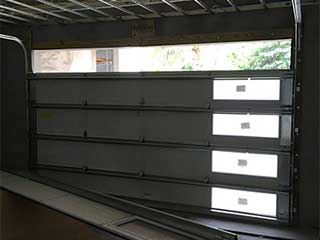 Damage to your garage door can be extremely inconvenient. Many homeowners rely on their door to work consistently and reliably every day. When they fail it's usually essential to get the problem fixed as quickly as possible.
Seeking Professional Assistance
Garage doors are built to last, but over time the wear and tear of continuous operation takes its toll. Parts wear out, fail, and can eventually lead to the breakdown of the entire door system. Once this happens it's essential to call us for professional repairs as quickly as possible. Dealing with this complex system by yourself can be a recipe for disaster.
Identifying Your Problem
Garage doors are complicated pieces of machinery, and it might not be evident at first glance why a door has stopped working. Our highly trained technicians are experts in spotting the issues these systems develop, and can assess the underlying causes of many door problems. For example, opening and closing issues could indicate that spring replacement is required or alternatively a problem with the alignment of the opener sensors. We can take care of both in a timely fashion.
Making Lasting Repairs
When a component in your door malfunctions or breaks it can easily affect other parts of your garage door. Our technicians carefully assess the impact that any failed parts have had on the system as a whole, and will ensure that no collateral damages have been left unaddressed. This gives our clients peace of mind, as they know that they can always rely on us.
Fast Response Services
We know that most of our customers rely on their garage door day in and day out, so we ensure you that our team is able to respond to each service call quickly. Our technicians work fast and responsibly to deliver results, and we're confident in our ability to fix any problem.
Professional Overhaul and Replacement
If you need a fast, professional and reliable garage door repair service, contact our experts at Garage Door Repair Palatine today. We'll happily provide you with all the information you need to make a confident decision, and we can handle any problem, big or small.
We also offer the following:
Garage Door Safety Inspections
Opener Sensor Repair & Replacement
Oil Tempered Torsion Springs
Emergency Garage Door Services