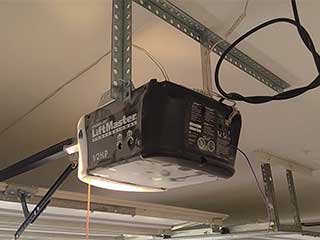 We understand that it can be very confusing to know what kind of opener is the best choice for your home if your current one needs to be replaced. Instead of trying to sort through all of the information yourself, when you call our experts, we'll help you examine the options, weigh the pros and cons, and decide which one will best meet your needs.
Screw Drive Openers
These garage door openers tend to be fairly noisy, but if your garage is not near bedrooms, they can be a great choice. Because they have fewer moving parts, our customers have found they experience fewer problems and tend to last a long time.
Belt Drive Openers
These openers are the quietest type so if your garage is close to bedrooms or social areas in your home, a belt drive is usually the best choice to go with. They tend to be a little more expensive than other openers, but the increase in price is worth it if you are worried about the sound generated by other kinds.
Chain Drive Openers
Chain drive is the most common opener available, they use a chain to raise and lower the door. Not only are they reliable and durable, they're also affordable. They can be noisier than belt drive openers but if your garage is not close to any bedrooms, this doesn't have to be too much of an issue.
Opener Repairs & Replacements
Choosing the right kind of opener for you will depend on your home environment and budget, as well as the horsepower needed for your current door. Our experts at Garage Door Repair Palatine can help with it all and they'll also install the new unit for you.
It may be that you don't need a replacement just now - if you're experiencing issues with your system, we can help diagnose the issues and make any repairs as necessary. Save yourself time and hassle and contact our professionals today!
You can also count on us for:
Garage Door Tune Up Services
Opener Sensor Replacement
Broken Garage Door Spring Replacement
Extension Spring Adjustment